What Is A Urologist
Are you wondering 'what is a Urologist'? And what a Urologist does for a living? Here we'll give you all the insight you need to answer your urologist-based questions. 
What is urology?
Urology is a medical practice focusing on both surgical and medical diseases pertaining to certain areas of the body in both men and women. 
What do urologists do?
Urologists could be considered as the plumbers of the human body. They deal with urinary tract conditions in both men and women and they also treat the reproductive system in men, which some may describe as 'Genito-Urinary Surgery'.
The urinary organs include two kidneys, two ureters, one bladder, the prostate, the urethra and the penis. However, any blockage, stone problems, growths, cancers or men's problems related to these organs can be treated by Urologists.
So, exactly what do urologists treat? Below is a list of some of the potential problems and conditions that would require advice and/or treatment from a Urologist.
Kidneys: Growth both benign and malignant, stones, infections, birth defects, obstruction
Ureters (tubes from the kidneys to the bladder): Stones, growth or narrowing (strictures)
Bladder: Growths, stones, inflammation, infection
Urethra: Narrowing, pain
Urology subspecialties
There are also a number of subspecialties in Urology, such as:
Urological Oncology: Urological Cancers
Female Urology and Reconstructive: Women's urinary tract
Stones and Endourology: Minimally invasive treatments and dealing with stones
Paediatric Urology: Urological problems in children
Neuro-Urology: Dealing with urinary problems as a result of diseases of the nervous system
Andrology: Male reproductive health (male infertility and erectile dysfunction)
How to become a urologist
After the completion of a medical degree, the next required step is core surgical training. Once this surgical training that typically lasts around two years is completed, ST3 Specialist Urology training commences. ST3 is a five-year course ,although, this can vary due to multiple different circumstances. 
Taking all of the above into consideration – the amount of time it takes to train to be a urologist in the UK is between 11 and 13 years!
If you are a Urologist looking to develop advanced practising techniques, you can purchase 'Urological Oncology' – a professional resource for urologists of all levels.
If you or someone you know is suffering from any of the issues listed above, contact us today to make a urology appointment.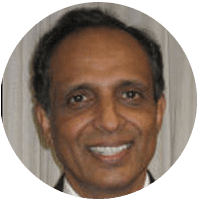 Mr Vinod Nargund is a Consultant Urological Surgeon specialising in Urological cancer, male sexual and fertility problems. He was trained in Urology at the City Hospital Belfast, the Royal Infirmary Bradford and the Churchill and John Radcliffe Hospitals in Oxford. You can view all of his qualifications on his biography page.